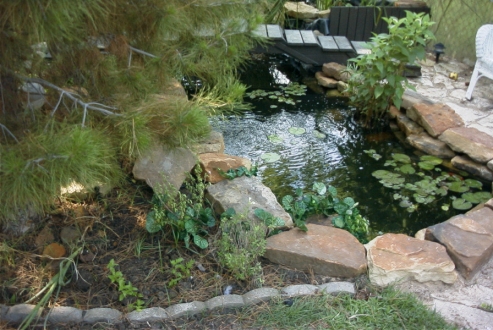 We do pond design and installation. We also specialize in keeping your pond healthy, and your fish healthy and visible. So we have seen a lot of ponds that have been in operation for varying lengths of time. We repair ponds of all ages, or will make recommendations other than repair if that is appropriate. If you are thinking about having your landscaper build you a "water feature", there are a few things about pond design you need to know. During pond cleaning season we clean many ponds, so we see it all. From virtually ancient home made filters with great clarity, to ponds that are less than a year old and in deplorable condition. Algae problems are still being fought on many of them, but for some customers we have been able to resolve their problems until very recently. A great filter can't always maintain clarity if the water has a lot of natural lime in it, or limestone, concrete or mortar are present in the pond, whether as rock or gravel. We remove a lot of white rocks, or seal them with X-3 Sealant and get the ponds we service to perform, with excellent clarity without a UV light. It takes time, after years of lime buildup in an existing pond, but it is worth it in lowered future maintenance, and your enjoyment of your pond. If you are planning a pond, whether you plan to build it yourself, have your landscaper, brother-in-law or someone else build it, visit the pond design page. Have us design the pond and sell you the right components, or just design and build it for you. More pond photos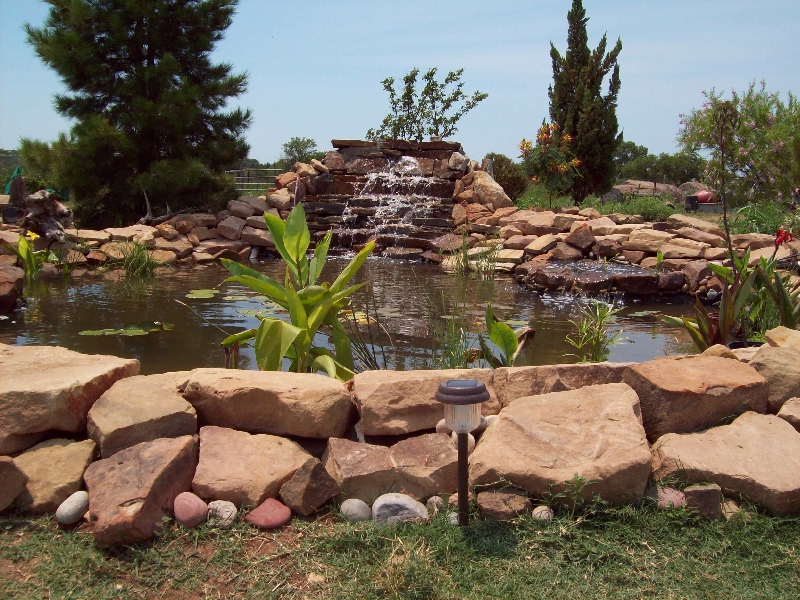 Everything Fishy would love to design or re-design the landscape around your pond, choosing plants suited to soil conditions, Texas heat, and those that won't litter the pond with debris. We built this pond, filtration system and installed the landscape plantings in August 2002. We can do the same for you.
Ask us about our landscape services when you call us at 817-293-1782. We also do consulting for do-it-yourself pond and landscape customers.
The pond at left has no 'filter' - the bog basins at either side serve the purpose, and the water quality has been adjusted so that plants thrive, algae doesn't. See more pics of this pond at this link. Have your pond or filter system designed (or re-engineered) by Everything Fishy and say goodbye to green water. We'll be happy to design a pond or water feature to suit your budget. Then we can either work with your landscaper, directing installation, assist you in doing the job, or install it for you. Your water feature should suit your budget, your lifestyle, and your time. Everything Fishy's filtration systems are all custom, designed to work with your requirements in mind, providing both mechanical and biological filtration, and superb clarity, with easy owner maintenance. Regular easy maintenance greatly reduces algae growth and the need for total pond cleanups. This saves you money in the long run.
If you have a pond that is already green and algae covered, it will probably need cleaned up first. If you'd like us to build you a beautifully designed pond or water feature with a filtration system that provides superb water clarity, and incorporates intelligent design features making it easy to maintain that clarity, call 817-293-1782 or email.
Green water or string algae are often fed by leaching limestone, concrete or cinderblock. Cure for the green water and string algae: Everything Fishy's Ultimate Stone Sealant, available on the pond supply page. Requires draining the pond, powerwashing the stone, and of course the fish have to be elsewhere for a day or two during sealing. This relatively* non-toxic aqueous silicone solution penetrates the stone, blot up all excess product after first coat. 2nd coat needs applied 2 hours later, followed by blotting of excess and a 24 hour dry cure time. The second coat will bond with the penetrating first coat, and form an impenetrable clear seal, no gloss, no discoloration of your stone or mortar. UV resistant for about 2 years, then will require a re-coat, followed by blotting of excess and a 24 hour dry cure time. We've tested this product on several ponds with limestone, mortar, concrete and have had beautiful results easily verified with a simple pond test kit. Test pH and alkalinity in your pond and water supply to know if this is your problem - both will be sky high on the pond, but not on the water source if stonework, mortar or cinderblock is leaching. After sealant, both will be around the same level as your water source. If a sample of your stone fails the leach test detailed above, Everything Fishy's Ultimate Stone Sealant may be the answer to your algae problems, giving you the beautiful pond you've always dreamed of.
Because the surrounding environment can have an impact on the health of your pond, we will help you choose plants that enhance the area without requiring special treatments, such as fertilizers and pesticides, that can turn your pond into an ecological disaster area.
Pond Heater Information: See the FAQ page, top item.
Plant information: Water Hyacinths are illegal in Texas and most southern states. Texas fines people $100.00 a plant. They are being sold on the Internet and shipped from California into Texas. Texas fines the pond owners, not the shippers.
We deliver and install perennial and annual landscape plants, bog plants, hardy water lilies, and some large goldfish, thick bodied, brilliant red/orange color. Fish are subject to availability. Recommended stocking load for goldfish: 1 adult fish per 100 gallons. Recommended stocking load for koi: 1 mature fish per 500 gallons.
I prefer not to stock with koi. Koi rapidly outgrow your pond's capacity because they never STOP growing. Koi are best suited to ponds over 2500 gallons. I also avoid fantails or fancy breeds that raccoons can catch in 30 seconds.
We answer emergency calls as quickly as possible. Often we can tell you, by phone, what to do to temporarily rescue your fish until we can get there. Everything Fishy's telephone number is 817-293-1782. Our hours are essentially 9:00 a.m. to sundown. If you get the voicemail, follow directions for a quick response and leave a message with telephone number including area code. Because we may be out for several hours, it can be an hour or 2 before we check for messages. The email link on this page goes to my cell phone immediately. Please leave a clear message with call back number. If I am in a pond, the phone is on shore.

The contractor built pond: What to beware of, if you want it to stay clear, and clean, and healthy.
The Do It Yourself pond: Pond design tips to save you time, money and grief.
Good filtration is critical to a healthy pond. Aeration helps to control temperature in the summer and enhance conditions for your fish, in addition to allowing many creative options in the way your pond appears, and sounds. The pleasant sound of trickling water, or the roar of a larger waterfall can be arranged.
Cattails and native water plants enhance the ecosystem by using up nitrates. They also soften and naturalize the appearance of the pond. Water lilies bloom in the morning during the summer months, and provide shade for the fish during the heat of the day.
---
The best times of year for water changes and upkeep on ponds in Texas are March thru May and September thru October or November, depending on temperature. The summer's heat is stressful enough for your fish, without disturbing them by doing a water change. Everything Fishy does some pond maintenance. Pricing is by bid only: we must see the pond, and especially the filtration system. Cleanup Bids on a maintenance route are no charge. Homeowner Consultation (we tell you how to do the work yourself) on a maintenance route: $35.00, special trip: $65.00; add 10 for Denton, Granbury (to cover gas). There are some filter systems we will no longer service, so you might check with the company that built your pond and ask about maintenance. If they are out of business, you bought a house with a pond of unknown origin, or they refuse to do the work, then give us a call at 817-293-1782. We'll do what we can.
Fall maintenance includes basic cleaning, complete water change with pH match, filtration and pump check-up, without equipment replacement or repair. Smaller ponds may cost less, or more, depending on the conditions, design complexity and difficulty of access. Larger ponds may cost more, or less, dependent upon the same factors. Filter pad replacement is available at an additional charge, but is really more essential in the spring cleanup. A simple cleaning is fine in the fall.
Winterizing your pond involves at least a partial water change, leaf and debris removal from the bottom (since that is where your fish will spend the winter), and a checkup on your filtration equipment. Provided the pond is clean in the fall, and large enough for the number of fish, your pump and filter equipment may be removed around the time of first frost, and stored in a garage or shed. The fish will need to eat less often, and will spend most of the winter semi-dormant, at the bottom of the pond. If your pond should freeze over, do not break the ice. Pour warm water over a small area until it is melted through. This will allow enough oxygen to reach the water. Breaking the ice can kill your fish from the concussion, which moves rapidly through the water.
Spring maintenance includes basic cleaning, complete water change with pH match, filtration and pump check-up, without equipment replacement or repair. Price may include filter pad, carbon and sponge replacement, and filter box cleanup as needed. Size, condition, design complexity, and difficulty of access affect price.
Restarting your pond in spring should involve a partial to full water change, depending upon its condition (and what was done in the fall), leaf and debris removal, and a checkup on your filtration equipment. Doing maintenance twice a year keeps your pond and fish healthy and attractive. We are looking for nets to put over ponds and keep leaves out, but haven't located a supplier yet. When we locate them, they will be available for sale on the Pond Supply page.
Maintenance service area: We will quote a rate for your location. Service call charge of $65.00 limited to an area within 30 miles of our location in Fort Worth, Texas for emergency calls, pump replacements, etc. We have discontinued most services in Collin County, Texas due to distance issues, but continue to serve Denton county. (Navigating traffic north of Dallas is a big factor) Email or call 817-293-1782 . Emergencies: If you get all voice mails, leave messages.
Sunday Service call (emergency only): $125.00 plus mileage if applicable.
No trip charge for regular spring and fall maintenance, provided the visit is scheduled as a cleanup prior to our arrival. The 30 mile zone covers the mid-section of the Fort Worth area. The trip charge may be higher for ponds outside this range.
(Pond conditions, size, design complexity and difficulty of access affect actual price. Equipment repair and replacement are additional charges. Work may be done on a 'bid' basis, or charged at an hourly rate, plus a trip charge of $75.00 Tarrant County. We generally bid large jobs, and charge the hourly rate on 'quick fixes'.) Fall maintenance and Spring maintenance are bid out, based on pond size, conditions and access. We no longer accept credit cards.